CKAN has advanced geospatial features, covering data preview, search, and discovery.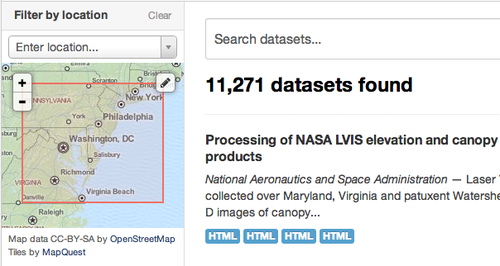 Preview
Where structured data with location information is loaded into CKAN's DataStore, CKAN can plot the data on an interactive map. The screenshot shows a map view of a sample dataset, with markers showing individual data points and full details shown for records as they are selected.
Search
With the spatial extension enabled, CKAN can understand a location associated with a dataset, and use this to offer geospatial search capabilities via the web interface and API. A user searching for datasets can filter the results by geographical location, specifying a bounding box to limit the area the are interested in. CKAN understands different co-ordinate geometries and parses location information accordingly.
Discovery
To ensure your datasets can be easily integrated with other systems, CKAN includes tools to import geo-coded metadata in a number of formats and make it queriable ('discoverable') according to the INSPIRE standard. It can import major metadata schemas such as ISO19139, GEMINI 2.1 and FGDC can handle records hosted in a variety of ways, including the geospatial CSW standard, WAFs, ArcGIS portals, Geoportal Servers and Z39.50 databases. CKAN can also serve geospatial packages via its own CSW interface. The architecture is extensible, making it easy to support other standards and distribution services.